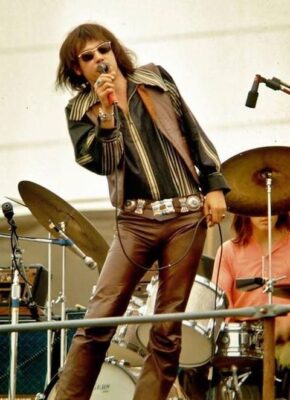 F2F Radio Interview with John Kay (of Steppenwolf) Comparing and Contrasting Tyranny Seen in the '60s-'70s and the Present Day.
(This was recorded in 2007 but eerily applies even more today. This was special to me as Steppenwolf has been my favorite band since '68, and John's lyrical commentary on politics, tyranny, and social issues is quite astute -James)
Description from original posting Dec 7th, 2007:
James has asserted that these current times have strong analogs to the times of the 60s-70s. This show continues in a series of shows in which we talk to people who were aware and active in those earlier times as well in these current times and compare, contrast, and learn from the successes and failures in hopes we are not doomed to continue the endless loop of oppression and resistance till death do us part…
John Kay was born Joachim Fritz Krauledat in 1944 in the section of Germany then known as East Prussia. He never knew his father, who was killed fighting in Russia a month before John's birth. When John was less than a year old, he and his mother fled to what would soon become Communist-controlled East Germany. They undertook a perilous midnight escape into West Germany when he was four. In 1958, he emigrated with his mother and stepfather to Toronto. There, he immersed himself in the rock, R&B, country, and gospel music that emanated from late-night U.S. clear-channel AM stations while learning English from the speed-rapping DJs who dominated the rock 'n' roll airwaves.
In the late 1960s, Steppenwolf was born, embodying that era's social, political, and philosophical restlessness. Steppenwolf's aggressive image co-existed with a thoughtful lyrical stance that challenged mainstream values and counterculture platitudes.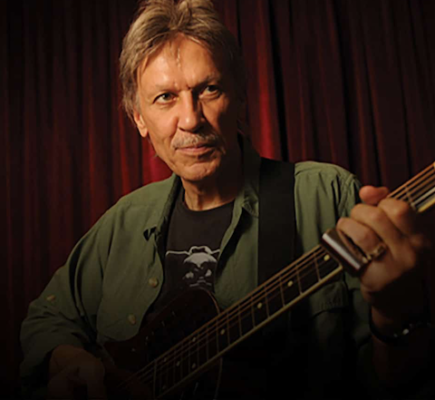 NOTE: Many who listened to the live show made comments like this:
"I must admit I was a little skeptical prior to listening,,; I loved the comment on the Chatroom about the rockstar can have a mind as well… But this really sparked me again. I must add: w/ guys like him: it seems less of an uphill battle… I've seldom heard anyone articulate as well as he does!! He's extremely well-spoken and eloquent! HAVE HIM BACK!!!" -Listener on Skype in Holland
"Her sure isn't a Keith Richards or an Ozzy" -Listener in the Chat Room.
"This is one of the best interviews I have heard on F2F" -Another Listener in Chat Room
Existing on both sides of "the 60's," John Kay brought experience, wisdom, encouragement, and direction to this interview, surprising people who were only familiar with popular songs like Born to be Wild. Many expressed interest in seeking out the lesser known, deeper, and more (lyrically) powerful songs that helped people who were "aware" get through the turbulent '60s, Viet Nam, etc.
Steppenwolf Website     –     Maue Kay Foundation
---
You can always have access to everything Feet to the Fire Radio Audio & Video plus Articles and Archives at:
https://FeetToTheFireRadio.com
https://www.spreaker.com/show/feet-to-the-fire-radio
https://soundcloud.com/user-846427763
https://youtube.com/BLKnight2012
https://www.bitchute.com/channel/f2f/
Now on GAB TV: https://tv.gab.com/channel/F2F
https://brandnewtube.com/@FeetToTheFireRadio
Twitter: JAJancik GAB: @F2F
https://www.facebook.com/FeetToTheFireRadio/
https://www.facebook.com/james.a.jancik (Personal Timeline)
eMail: feettothefireradio AT protonmail DOT com
https://feettothefireradio.com/f2f-radio-merchandise/
https://feettothefireradio.com/help-support-james-f2f/
Free Access to Legacy Archives 2003-present:
https://feettothefireradio.com/f2f-radio-video-audio-archives/
A/V