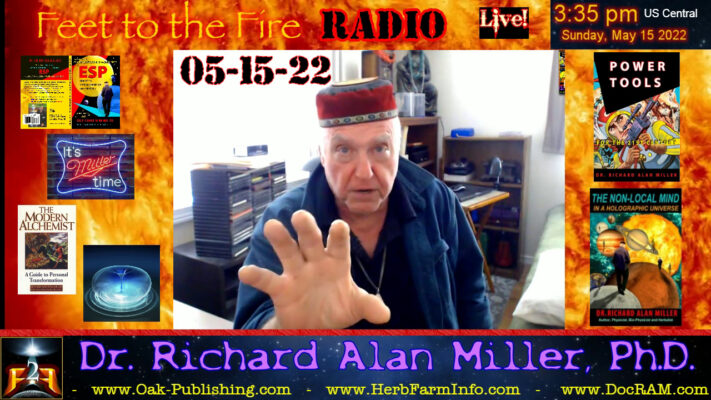 NOTE: the Video/Audio goes out of sync starting about 3/4 the way through the YouTube version. The GAB TV version had no such issues:
https://tv.gab.com/channel/f2f/view/f2f-radio-dr-richard-multiverse-miller-6289b5826b2530a3c8c36dc8
Spreaker Audio-Only Podcast LINK
Dr. Richard Alan Miller returned to F2F Radio in what was supposed to be watched live, but I stopped the live cast due to Internet bandwidth issues with many skipped frames, instead opting to upload the local copy.
In light of the forthcoming Dr. Strange movie, Richard talks about the real multiverse; if anything is real, that is. He released a new book: "The Non-Local Mind," which addresses the nature of consciousness and reality.
His stream-of-consciousness style is a wild ride that does stop for a moment to talk about a possible "Carringing-like" event approximated to be within 2024 from data retrieved from a project dropping a probe into the Sun's Heliosphere.
His website is www.RichardAlanMiller.com, and if it is your first time experiencing Richard, he is a playlist of other Video Interviews I have done over the years of Feet To The Fire Radio:
---
You can always have access to everything Feet to the Fire Radio Audio & Video plus Articles and Archives at:
https://FeetToTheFireRadio.com
https://www.spreaker.com/show/feet-to-the-fire-radio
https://soundcloud.com/user-846427763
https://youtube.com/BLKnight2012
https://www.bitchute.com/channel/f2f/
Now on GAB TV: https://tv.gab.com/channel/F2F
https://brandnewtube.com/@FeetToTheFireRadio
Twitter: JAJancik GAB: @F2F
https://www.facebook.com/FeetToTheFireRadio/
https://www.facebook.com/james.a.jancik (Personal Timeline)
eMail: feettothefireradio AT protonmail DOT com
https://feettothefireradio.com/f2f-radio-merchandise/
https://feettothefireradio.com/help-support-james-f2f/
Free Access to Legacy Archives 2003-present:
https://feettothefireradio.com/f2f-radio-video-audio-archives/
A/V