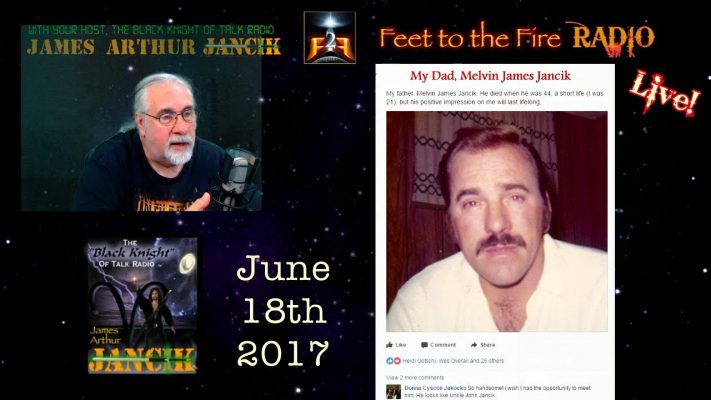 NOTE: I have fixed the "echo audio" that appeared in a few segments and re-uploaded the live broadcast from June 18th 2017. Nothing has been changed, but it does zero out all comments and likes. Just, you can now listen without a head ache – James
Feet to the Fire Radio LIVE for June 18th 2017 (repaired audio)
After our choices, Forward Ho!
Well, the last 2 weeks my Internet upload speed tanked JUST before going on air… has to record then uploaded… so far so good this week, but, it is early 😉
A run through the happenings of the week with my comments and analysis peppered throughout. After the "Line is Drawn" topic of last week, it seems, we are now moving forward with out choices… but so is The Ineffable. Plus new commentary from Les Visible.
Links referenced within the broadcast:
http://waynedupree.com/sekulow-let-me-be-clear-the-president-is-not-under-investigation/
— Deplorable Vlad (@misterdish69) June 18, 2017
http://www.breitbart.com/video/2017/06/17/trump-touts-apprenticeship-initiative-there-is-dignity-in-every-honest-job-and-there-is-nobility-in-every-honest-worker/
https://sputniknews.com/analysis/201706161054707487-hillary-clinton-way-to-jail/
I watched Part One of Stone's Putin Interviews. I was shocked by the incompetent, rambling, awkward "style" of Stone. Embarrassing. Bad questions. He did not even look at Putin when asking question, though, Putin can understand English very well. He even interrupted Stone, before the translator could translate to correct Stone. A squandered opportunity. Thank goodness Putin was a good interview in spite of the interviewer. I hope parts 2-4 are better on Stone's part. Putin's talk worth the watch.
Refreshing to hear the Ugly Truth up front about a war:
"We would win at great cost," Mattis told the House Appropriations Committee Thursday,"It would be a war that fundamentally we don't want"
"If this goes to a military solution, it's going to be tragic on an unbelievable scale," Mattis said in a press briefing in mid-May. "So our effort is to work with the U.N., work with China, work with Japan, work with South Korea to try to find a way out of this situation."
http://dailycaller.com/2017/06/16/mattis-gives-congress-a-sobering-view-of-what-war-with-north-korea-would-look-like/
Walmart Expose':
https://youtu.be/0CVhOPXqBkU
https://youtu.be/Yyw_CWjH2b8
Call DOJ 202-514-2000 opt 4 Mueller Must Recuse Himself Code Of Fed Regulations 45.2 IT'S THE LAW!!
http://www.dailywire.com/news/17431/yes-robert-mueller-should-recuse-himself-elliott-hamilton#exit-modal
http://www.zerohedge.com/news/2017-06-16/rosenstein-says-he-may-need-recuse-himself-russia-probe-abc
http://thehill.com/blogs/pundits-blog/the-administration/338138-opinion-if-rosenstein-recuses-himself-mueller-may-not
https://www.usatoday.com/story/opinion/2017/06/14/mueller-should-recuse-himself-from-investigating-russia–comey-william-otis-column/102827924/
This is the problem "sources" who are not "official" nor "named" at the time of the publishing information; no matter WHO it is. Better safe then sorry? That is week. Better safe and remove the President in case he may be with the Russians? We need to have "Just Cause" and "Reason to Suspect;" in both phrase there is physical evidence and.or reason. Not politics, fear or some other motivation.
http://money.cnn.com/2017/06/16/media/port-of-charleston-dirty-bomb-conspiracy-theory-shutdown/index.html
Trump Supporters protesting outside CNN headquarters
http://www.nbcnewyork.com/news/local/NYC-Pro-Trump-Protester-Arrested-After-Rushing-Taking-Stage-at-Caesar-Play-429015263.html
Hollywood A-Lister just sent me this #FreeLaura pic.twitter.com/5SY6Urm6XV

— Jack Posobiec 🇺🇸 (@JackPosobiec) June 17, 2017
https://twitter.com/Rockprincess818/status/876087512908800000
https://www.usnews.com/opinion/blogs/peter-roff/2013/08/13/obama-rodeo-clown-loses-his-job-and-america-loses-its-sense-of-humor
Cracks me up! Lol reminds of a buddy of mine!
https://youtu.be/j8_N386XLmk
https://youtu.be/z4dOkZD6MDA
Mainstream Sponsors of Leftist Terrorism

Artwork by @GrrrGraphics pic.twitter.com/Wdow0XETjt

— Stefan Molyneux (@StefanMolyneux) June 15, 2017
4 days before Alexandria, Bernie Sanders ordered his followers to "Take your anger out on the right people"https://t.co/Rv9teKvrKW

— Jack Posobiec 🇺🇸 (@JackPosobiec) June 14, 2017
http://www.breitbart.com/big-government/2017/06/13/delingpole-ship-of-fools-iii-global-warming-study-cancelled-because-of-unprecedented-ice/
North Korea is now 'only one step away' from launching a nuclear missile which can hit America, US expert warns
https://www.infowars.com/trump-shirts-edited-out-of-high-school-yeabook/
A/V